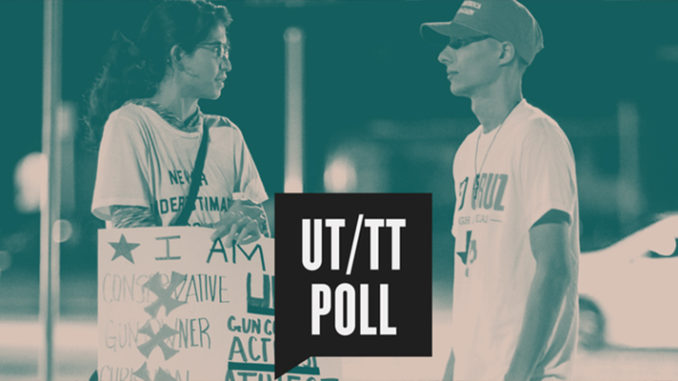 by Ross Ramsey, The Texas Tribune
Texas voters say they're more enthusiastic about voting in the 2018 elections than the state's voting history might suggest.
Seventy-two percent of the state's registered voters say they are either "extremely" or "very" enthusiastic about voting in the 2018 elections, according to the latest University of Texas/Texas Tribune Poll. Seventy-six percent said they were "absolutely certain to vote."
In a state where midterm general elections have recently attracted no more than 38 percent of the registered voters, that might seem aspirational. Nevertheless, only 12 percent of those Texans said they were either "not too" or "not at all" enthusiastic about voting this year.
"There's no obvious enthusiasm gap by party," said Jim Henson, head of the Texas Politics Project at the University of Texas at Austin and co-director of the poll. "Men are more enthusiastic than women, and whites are more enthusiastic than black and Hispanic voters."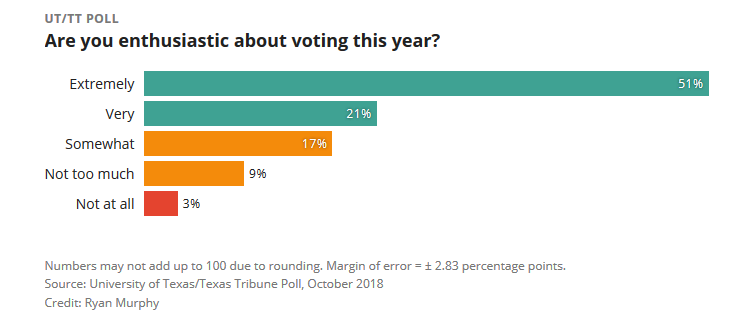 It's worth noting that the first days of early voting have been robust; nearly 1.6 million Texans voted during the first three days in the 30 counties with the most registered voters. It won't be clear until the voting is done whether the overall turnout will be greater than normal, but it's safe to say the early voters are showing genuine enthusiasm.
More than half of respondents said they have been contacted by a political campaign during this election season — 36 percent of them by campaigns from both parties, 17 percent by just Republicans and 44 percent by just Democrats.

Email and text messages were the most common form of contact, followed by phone calls, letters or postcards, in-person visits and social media messages and posts.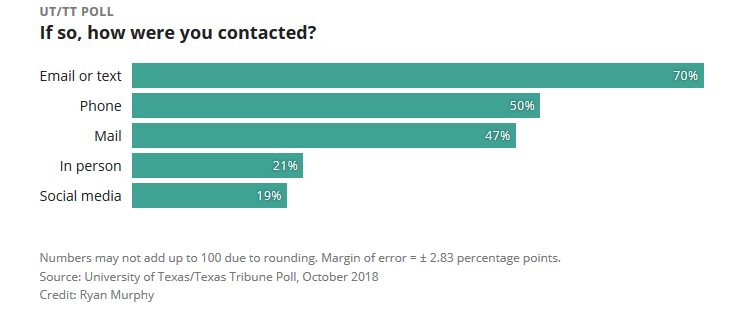 Voters were predictably split when asked if they felt welcomed by the political parties. While 42 percent said the Democratic Party was welcoming to people like them, 53 percent said it's not. And while 50 percent said the Republican Party was welcoming to them, 44 percent said it is not. Among independent voters, 31 percent said the Republicans are welcoming and 22 percent said the Democrats were welcoming. Most of those independents remain outsiders: 51 percent said the GOP is unwelcoming and 60 percent said the same of the Democrats.
The University of Texas/Texas Tribune internet survey of 1,200 registered voters was conducted from October 15 to October 21 and has an overall margin of error of +/- 2.83 percentage points. The likely voter sample of 927 voters has a margin of error of +/- 3.22 percentage points. Numbers in charts might not add up to 100 percent because of rounding.
UT/TT Poll, October 2018, Methodology


(64.4 KB) DOWNLOAD
UT/TT Poll, October 2018, Summary


(150.6 KB) DOWNLOAD
This article originally appeared in The Texas Tribune at https://www.texastribune.org/2018/10/26/ut-tt-poll-texas-voters-say-theyll-vote/.
The Texas Tribune is a nonprofit, nonpartisan media organization that informs Texans — and engages with them — about public policy, politics, government and statewide issues.