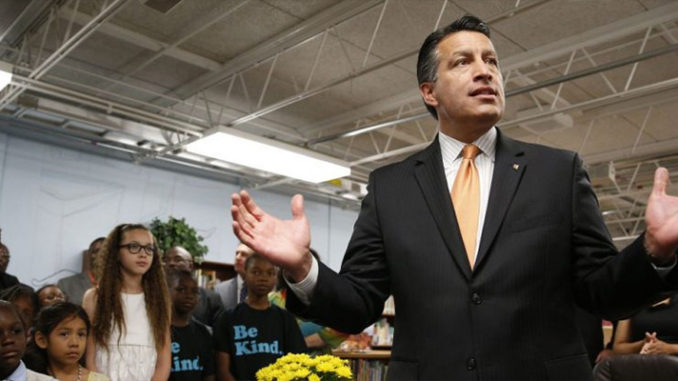 by Carolyn Phenicie, the74
Democrats will retain control of the Nevada Senate and Assembly, setting up a Democratic trifecta with newly elected Gov. Steve Sisolak that could look to dismantle many of the state's landmark Republican-passed education reforms.
Republicans had to run the table on three toss-up seats in the state Senate, plus pick off another likely Democratic seat to retake the chamber. Democrats are set to win at least two of those tossups, in districts 8 and 9, according to the Nevada Independent.
In the third race, district 20, Republican Keith Pickard is ahead by 57 votes, as of 12:30 p.m. Eastern Wednesday, according to the secretary of state's website. Keeping that race in GOP hands blocks Democrats from getting a supermajority in the Senate. A supermajority of two-thirds of members would let them override gubernatorial vetoes and pass tax increases without Republican support.
In the state Assembly, a few races remain outstanding, but Democrats appear poised to hold a 29-13 majority. That would definitely give them a supermajority in that chamber.
It was a good night for Democrats statewide: they also won a U.S. Senate seat and three of the state's four House seats.
One Assembly race attracted outsize national attention: brothel owner and reality show star Dennis Hof, a Republican, died three weeks ago but was elected anyway. County officials will appoint a Republican replacement, according to CBS.
(Check out our liveblog for the latest on races at all levels of government.)
At issue under the universal Democratic control of state government are several of Nevada's landmark 2015 education reforms, most prominent of which is its currently stalled education savings account program.
The program would have made every child in the state eligible to use his or her share of state education funding for private school tuition, tutoring or other education expenses. It was challenged in the courts, and the state Supreme Court said lawmakers had to find another way to fund it besides the usual K-12 funding stream. That's been on ice since Democrats re-took control of the legislature in 2016, and all indications are that they won't move on it now.
Related
Fate of Nevada's Landmark Ed Reforms Could Hinge on Outcome of Four State Senate Races
The big Democratic wins Tuesday are something of a second defeat for universal education savings accounts, after voters in Arizona overwhelmingly rejected a similar program.
Also up for lawmakers' consideration will be the future of an achievement school district, under which the state selects charter schools to either take over operations or set up right next to underperforming district schools, and a revision to the state's school funding formula.
EDlection2018: This is one of several dozen races we've analyzed for the 2018 midterms that could go on to influence state or federal education policy.