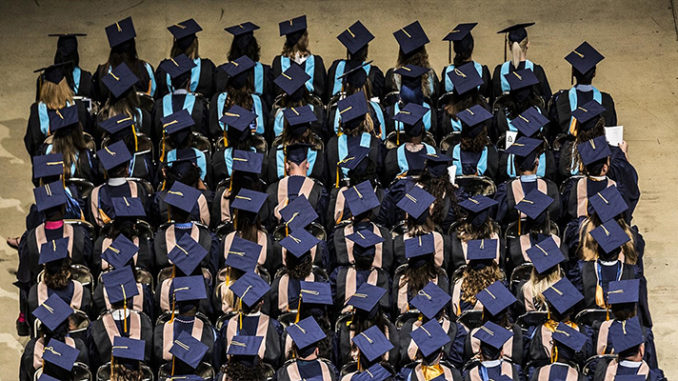 by Jazmine Ulloa
Gabriela Cruz, who was brought to the U.S. illegally when she was 1, couldn't vote, but in the final hours before the Nov. 6 election, she was making one last run to get people to the polls.
The sun was setting in Modesto when she found Ronald Silva, 41, smoking a cigarette on a tattered old couch behind a group home. He politely tried to wave her off until she reminded him he had a right that she as an immigrant without citizenship didn't have.
"It could really make a change for us," said Cruz, 29.
Half an hour later, she was helping Silva look up candidates as he filled out his ballot by the light of her phone. "I'm glad you guys came," he said. "I was going to leave it in my drawer."
Young immigrants, known as "Dreamers," have become a political force over the last two decades as they have pushed Congress to overhaul the nation's immigration laws. Part of a new wave of immigrant activists who mobilized this year to return control of the House to Democrats, Cruz and others in the movement see in President Trump an existential threat to their futures, and to their friends and family.
Less than a year ago, Cruz had a steady job at a mortgage bank, with health benefits and a retirement plan. She wanted to go back to college and dreamed of buying her own house.
But when Trump instituted a travel ban, tightened immigration enforcement and tried to end a program that granted temporary protections for young people brought into the country illegally as children, she grew tired of sitting helplessly at her desk and quit to become an activist.
"I realized I needed to share my story with as many people as possible," she said. "We shouldn't be living in a world of fear because we are undocumented."
In California, Dreamers like Cruz phoned voters, walked precincts and protested outside Republican lawmakers' offices, reaching people who had not been called or visited by either party. Their efforts helped boost turnout among Latinos in this year's midterm election — 29 million nationwide were eligible to vote, according to the Pew Research Center — which is projected to surpass levels higher than in past presidential election years, political analysts said.
An analysis of data from eight states by the Latino Policy and Politics Initiative at UCLA found the Latino vote grew by an estimated 96% from 2014 to 2018, compared with 37% among non-Latinos. The surge, researchers said, helped move 20 House districts held by Republicans to Democratic control in California, Arizona, Nevada, Texas, New Mexico, Florida, New Jersey and New York.
In another study, the political research firm Latino Decisions found that an increase in Latino voter turnout contributed to flipping six GOP-held congressional seats in California — four in the once conservative bastion of Orange County and two in the Central Valley that have long eluded Democrats.
The results "spoke to the power within the Latino community," said Adrian Pantoja, a senior analyst with Latino Decisions and a professor of politics at Pitzer College.
"Latinos were talking to each other, and there's no doubt that Dreamers were instrumental to the effort," he said.
Jazmine Ulloa covers California state politics and policy for the Los Angeles Times and is based in Sacramento.