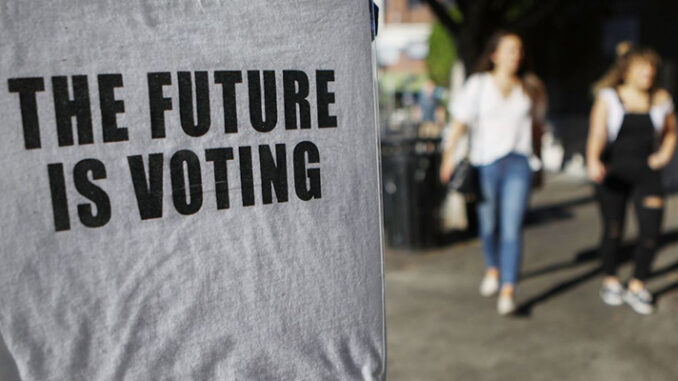 by Ronald Brownstein
At a moment of profound national tension over race, California may be lighting a pathway toward greater racial reconciliation as America grows irreversibly more diverse in the years ahead.
The California state legislature is moving toward approving legislation this month that would place on the November ballot a referendum to repeal a ban on affirmative action for racial minorities in hiring and higher education admissions that the state's voters backed in 1996.
That ban came midstream in a rapid-fire sequence of racially inflammatory ballot initiatives that state voters approved, typically by big margins, in the 1990s, including Proposition 187 to deny public services to undocumented immigrants, and measures to toughen criminal penalties on repeat offenders and juveniles and to ban bilingual education in public schools.
All of those initiatives passed against a backdrop of racial transition, when whites were falling below a majority of the state's population and California was experiencing an expanding "cultural generation gap" between a preponderantly white senior population and increasingly diverse younger generations. But two decades later, with people of color now firmly established as a majority of the state's residents, those tensions have diminished to the point where it has become possible to build multi-ethnic coalitions to reverse some of the hardline legislation passed during the 1990s era of maximum tension.
While racial inequities in the state persist, the move to undo the affirmative action ban, which overwhelmingly passed the state Assembly last week, follows a series of legislative and ballot initiatives in recent years that have rolled back some of the earlier era's harshest measures. "The '90s were the decade of racial propositions," said Manuel Pastor, director of the Program for Environmental and Regional Equity at the University of Southern California. "And there's been a pretty consistent reassessment since then."
The nation now looks more like California then
To some civil rights advocates, that arc of change from confrontation to greater coexistence in California offers hope that the
national escalation in racial tensions
accompanying
Donald Trump's
turbulent presidency might also ebb over time as American continues its transition to becoming a majority-minority nation. The hardline measures that voters approved in California during the 1990s "were based on xenophobia and blatant racism and a power struggle that was occurring in California," said Audrey Dow, senior vice-president at the Campaign for College Opportunity, a group that advocates for minority students. "I think in many ways the country [now] is where California was in those years."
.
California in the 1990s, like the nation now, was caught at the crossroads of disruptive demographic and economic change. As Pastor noted in State of Resistance, his 2018 book about California, the state's economy struggled in the early 1990s as the defense industry hemorrhaged jobs in the aftermath of the Cold War before the new economic dynamo in Silicon Valley had fully developed. At the same time, during the 1990s kids of color became a clear majority of state residents younger than 18. Meanwhile, whites still comprised about three-fourths of the state's seniors.
That gaping difference between the racial composition of the young and the old — what demographer Bill Frey has called the "cultural generation gap" and I've described as the conflict between "the brown and the gray" — provided the backdrop for a decade of racially explosive politics in California. Appealing primarily to those older whites, conservative activists and Republicans placed on the state ballot a succession of initiatives between 1994 and 2000 advancing hard line policies in education, criminal justice and immigration. California "went down this…dark path," said State Assembly member Shirley Weber, a Democrat from San Diego, who sponsored the current bill to repeal the affirmative action ban. "Every year we were fighting something."
Proposition 187 and more
In 1994, nearly three-fifths of California voters backed Proposition 187, a ballot initiative promoted by Republican Gov. Pete Wilson, that banned all public services for undocumented immigrants, including barring their children from public schools. On the same ballot, nearly three-fourths of California voters approved the so-called "three strikes" initiative, which mandated 25-year to life prison sentences for anyone convicted of three felonies, even if they included non-violent crimes. Those two measures helped Wilson, whose campaign had been faltering, comfortably defeat Democrat Kathleen Brown, the sister of Jerry Brown, for reelection.
.
The margin was somewhat tighter, but the result the same two years later, when 55% of California voters in 1996 approved Proposition 209. That measure, promoted by Wilson and conservative University of California Regent Ward Connerly, banned affirmative action for minorities in public hiring and contracting and in higher education admissions at the massive University of California and California State University systems. In 1998, another three-fifths majority approved Proposition 227 (which Wilson also endorsed) to ban the use of bilingual education in public schools. Finally, in 2000, three-fifths of California voters approved another Wilson-backed initiative to try more juvenile offenders, many of whom were kids of color, as adults.
Bill Whalen, a research fellow at the conservative Hoover Institution and a top adviser to Wilson in those years, says this succession of measures responded to tangible problems, such as concern about crime rates and the quality of education. But he agrees they also drew on a generalized anxiety, particularly among whites, about the broader changes remaking the state. "These initiatives were backlashes against a changing California," he said, adding that they reflected what many "white voters saw as the compromising of the California dream [and the sense] that this is not the California that I knew, the California I grew up in."
These measures consistently drew broad support from whites, who fell below a majority of the state's total population in 1998. Exit polls conducted by the Los Angeles Times found that about three-fifths of whites backed both Proposition 187 and the ban on affirmative action and roughly two-thirds supported the ban on bilingual education.
But minority communities did not present a united front against these proposals. That reflected the strains in California race relations during the 1990s even among communities of color. The 1992 civil disorder that erupted after the Rodney King beating in Los Angeles vividly captured the tensions between Asian immigrant communities and African Americans; blacks and Latinos sometimes chafed as the latter became more prominent in neighborhoods once dominated by the former. Exit polls showed that about 45% of both African- and Asian-Americans backed Proposition 187 to cut off services for undocumented immigrants; nearly half of blacks and a three-fifths majority of Asian-Americans supported the ban on bilingual education. (In both cases, a majority of Latinos opposed.)
Turning back
.
After the state's prison population soared by about 50% following the passage of the three-strikes law and other measures during the 1990s, the state has approved criminal justice reforms that have reduced the number of prisoners to about its level before that spasm. One key step came in 2016 when voters gave nearly two-thirds support to a ballot proposition that retrenched aspects of both the three-strikes and juvenile offender initiatives passed during the earlier period. That same year, nearly three-fourths of voters approved another ballot proposition repealing most of the bilingual education ban from 1998.
That's left the ban on affirmative action as perhaps the most conspicuous surviving component of the 1990s agenda. That ban has generated the most friction over its impact on higher education.
After the ban's approval, the share of African American and Latino students admitted to the University of California, particularly its most elite and desirable campuses, fell and has never entirely recovered. Though Latinos in particular represent a growing share of the state's college-age population, about three-fourths of both Latino and black college students in California attend community colleges, with fewer than one-in-twenty of each group studying at the University of California, the Campaign for College Opportunity has calculated. While the UC system has tried other measures to preserve racial diversity, "we see a real lack of racial representation at the UC system's most elite campuses," says Dow, the group's senior vice president.
In January 2014, the California State Senate voted to place on the ballot a repeal of 209's provisions covering higher education. But the measure was shelved in the state Assembly amid substantial opposition from Chinese American and some other Asian-American groups that said that repeal would disadvantage their young people in college admissions.
Rising optimism over repeal
Repeal advocates are much more optimistic about their odds now. Weber, the repeal sponsor, says advocates began discussing a renewed effort last fall. When the coronavirus pandemic shut down the state in March, she says that initially, "I had some real soul searching with regards to the bill-is this the right atmosphere, is this the right time?" But in fact, she found that the stark racial disparities displayed during the outbreak, with African Americans and Latinos dying at higher rates, increased interest among her colleagues. "The numbers we experienced in the pandemic began to show cracks in our society…that people of color are suffering the most from it," she said. Then the death of George Floyd in Minneapolis, and the massive protests it sparked, sparked even greater urgency. "I didn't have to explain to everybody why racism is still alive," she says, "why we haven't made the progress we think we have."
.
The Democratic-dominated state Assembly last week passed the bill by a vote of 58-9, well above the two-thirds majority needed. The State Senate will hold hearings on the bill this week and is expected to approve it next week before the June 25 deadline to place the measure on the November ballot. It would begin as a clear favorite to pass, most political observers say, especially given the prospect that the preponderant majority of California voters opposed to Donald Trump will turn out in large numbers. In one measure of momentum, on Monday, the UC Board of Regents voted unanimously to support the repeal.
One notable aspect of last week's Assembly vote was that eight of the chamber's ten Asian-American members voted for repeal. Vincent Pan, executive director of Chinese for Affirmative Action, says that shift from 2014 partly reflects immediate factors: better organizing in the Asian-American community and the also the fact that this repeal affects not only education but also public hiring for positions such as police, fire-fighters and college faculty where Asian communities still feel underrepresented. But he says, the support also reflects a growing sense of shared interest among the many communities of color that often found themselves at odds while the conservative 1990s laws advanced.
"What we are slowly evolving toward is understanding that it's not just about comparing the different ways we have challenges and disadvantages, but how we relate those challenges to come up with solutions that are going to help everybody," Pan says. "That solving our problems is not a zero-sum game."
Pastor, the USC professor, likewise says that dogged efforts to create greater organizational ties among minority groups, as well as with sympathetic whites, has been critical to California's reversal in course. The continuing wave of demographic change, he says, has helped to lessen tension, as the racial gap between the state's older and younger populations has narrowed since 2000, and whites have discovered that their fall into minority status (they now comprise only 37% of California residents) hasn't marginalized them. But even more important, he says, has been years of grassroots organizing to expand support for alternatives to the approaches of the 1990s. "The arc in California wasn't just demographic change or economic change," Pastor says. "It was careful movement building."
Pastor is one of many observers who have noted the similarities between California's situation in the 1990s and America's today. Just like California then, the US now is experiencing a profound demographic transition that has put it on a pathway to whites falling below a majority of the population around 2045. And just like California then, the change in the nation is advancing much faster among the young than the old: while kids of color will likely comprise a majority of the under-18 population in the 2020 Census, whites still constitute more than three-fourths of seniors. Especially in Sunbelt states such as Arizona, Texas, Georgia and Florida, the racial gap between the young and old — the brown and the gray — is even greater than nationally, Census figures analyzed by Pastor's program show.
This divergence has fueled the political conflict between a Democratic coalition increasingly reliant on younger and non-white voters, and a Republican coalition centered on older whites (notwithstanding the possibility that Trump's support among those voters may erode somewhat this year). It's easy to forecast that tension will only increase as whites edge closer to losing their majority status and the non-college and Christian whites especially critical to the GOP coalition fall below 40% of the total population, as they are on track to do in this decade.
But California's reconsideration of the exclusionary 1990s agenda passed at the peak of demographic change suggests the nation is not assured a future in which more racial diversity inexorably means more racial conflict. The state has hardly eliminated racial contention or solved racial inequity. But it has formulated an agenda that has found more common ground between communities of color and a substantial segment of whites. Though Democratic Govs. Jerry Brown and Gavin Newsom have generally supported these measures to undo the legacy of the 1990s, they carried a majority of California whites in the 2014 and 2018 elections respectively, a clear measure of those voters' declining receptivity to the politics of racial backlash.
The large number of whites, especially from younger generations, participating in the protests across the country following Floyd's death likewise suggest the possibility of a broad nationwide cross-racial coalition for greater equity. While few dismiss the possibility of backlash among some whites if violence resurfaces, polls including the most recent CNN survey have consistently found that Trump's call for a crackdown on protesters and his appeals to "law and order," have alienated far more Americans than they have attracted. If California's progress toward reconciliation since the peak of its own racial tensions in the 1990s is any guide, the national balance of opinion may tilt even further from resistance toward inclusion in the years ahead.
---
Ronald Brownstein is a CNN senior political analyst, regularly appearing across the network's programming and special political coverage.