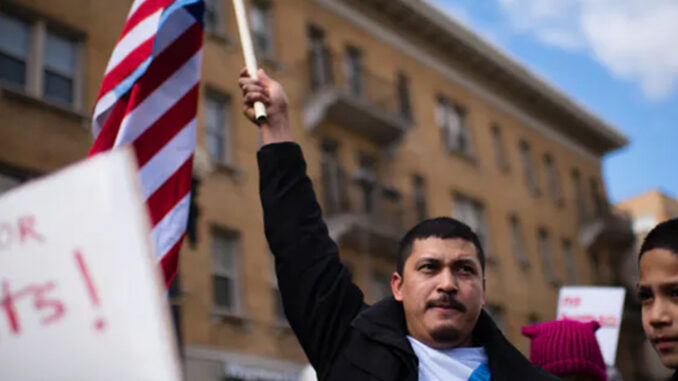 Transformative immigration relief in the House Build Back Better Act would provide protection and work permits to 6.8 million immigrants with long standing ties to the United States.
by Admin
The House of Representatives is planning to vote TODAY on the Build Back Better Act, including the immigration provisions described below.
The Build Back Better Act (BBB), introduced in the House of Representatives on November 3 as H.R. 5376, would provide transformative immigration relief, including work permits and deportation protections, for nearly 7 million undocumented immigrants who have lived in the United States for more than a decade. This expanded use of immigration parole, a form of immigration statutory relief that has existed for decades, promises critical—though temporary and limited—relief for millions of families across America.
BBB offers work permits and protections to certain immigrants
Section 60001 of the BBB includes language directing the Secretary of Homeland Security to provide immigration relief via parole, including work permits and protection from deportation, to certain immigrants who have lived in the United States since January 1, 2011 and have remained continuously. This would be available for immigrants who entered with or without inspection (in other words, with or without authorization), or who were paroled into the country.
Protections and permits would be granted for five years, and could be extended until September 30, 2031, at which point, protections for all recipients would expire.
The Secretary of Homeland Security is already authorized to issue parole under section 212(d)(5) of the Immigration and Nationality Act. This bill directs the Secretary to issue parole to certain qualifying individuals. While parole has generally been used to admit (or re-admit, in the case of advanced parole) individuals into the United States for humanitarian or extraordinary reasons, recent administrations have also granted "parole-in-place," similar to this bill, where parole is granted to immigrants already residing within the U.S., largely to maintain family unity.
Parole provides limited protection against deportation, and under this legislation, recipients would also be eligible to apply for work permits, authorization to travel abroad, and driver's licenses. Additionally, the bill would prohibit federal agencies like the Department of Homeland Security, Immigration and Customs Enforcement, and Customs and Border Protection from using information included in applications for immigration enforcement purposes.
Nearly 7 million undocumented immigrants could receive relief
According to FWD.us estimates, about 6.8 million undocumented immigrants have lived in the U.S. since January 1, 2011, and would be eligible for relief under this legislation. They have long standing ties to the country, with an average 20 years in the U.S., twice the qualifying length for relief under the BBB House bill.
This proposal would provide relief to immigrants in groups that have been prioritized in recent legislative efforts, including previous reconciliation proposals. The bill's proposed population includes more than 2 million Dreamers who came to the U.S. as children, including all of those individuals currently protected by Deferred Action for Childhood Arrivals (DACA), and nearly 500,000 people who are eligible for or currently protected by Temporary Protected Status (TPS). We estimate that 4.2 million—more than half—of eligible immigrants under the BBB bill are essential workers, including more than 500,000 farmworkers.
Immigrants who would receive relief under this bill generally have strong and long standing ties to the country and their communities. According to FWD.us estimates, more than half of eligible immigrants are married, with 1.4 million married to a U.S. citizen or permanent resident. Additionally, more than 600,000 live with a U.S. citizen or permanent resident child older than 21.
About 3.9 million (58%) of the eligible population are from Mexico, followed by 1.6 million (25%) from countries in Central America, South America, or the Caribbean, and 725,000 (11%) from countries in Asia.
Relief promises benefits for recipients and for the U.S. economy
In addition to temporary protection from deportation, this immigration relief would also allow recipients to receive work permits, travel authorization, and driver's licenses. These benefits can be truly transformative, as the success of similar policies like DACA and TPS have shown. Because of these benefits, recipients would be able to better support their families, attend institutions of higher learning, and contribute more to their communities and the country.
FWD.us estimates that recipients with work permits would increase their contributions to the national economy by $17 billion annually, with several states seeing multi-billion dollar expansions to their economies. We also estimate that recipients would increase their federal, state, and local tax contributions by $10 billion annually.
Additionally, receiving relief could allow upwards of 2 million undocumented immigrants with immediate relatives who are U.S. citizens to apply to adjust status to that of a lawful permanent resident (also known as getting a green card), if they otherwise qualify.
Relief proposal is limited; Congress must still establish a pathway to citizenship
While this legislation would bring transformational relief for millions of families, there are significant limitations. The period of protections offered is quite short, granted in 5 year increments and slated to fully expire on September 30, 2031. Without further action from Congress or a future administration, many people protected under this law would still not be eligible to apply to adjust their status and ultimately for citizenship, and would lose even these limited protections after that date.
While the qualifying date is broad enough to allow much of the undocumented population to apply, there would be millions left out because they arrived too recently, including many children. Of those who are granted relief, only a small subset would be eligible to adjust to a permanent resident status. And under the current language, recipients would remain ineligible for most federal benefits, unless they were able to adjust status.
Relief would not be granted to individuals who are inadmissible under certain sections of immigration law, including individuals who have been convicted of certain crimes, from applying. The language requires applicants to pass a security and law enforcement background check, but does not define any details. And the Secretary of Homeland Security would retain the ability to rescind parole if the recipient was later determined ineligible for relief.
Ultimately, the proposal falls far short of a pathway to citizenship for undocumented immigrants, a policy supported by the majority of Americans. Without a real pathway, this legislation can offer only limited, temporary relief, not the kind of certainty that these long standing members of our communities deserve. However, considering the legal challenges facing DACA and TPS, and the failure of Congress over decades to meaningfully reform the immigration system and deliver a solution for undocumented immigrants, this transformative relief is a critical step forward, even with all its limitations.
.
.
Originally Published by FWD.us