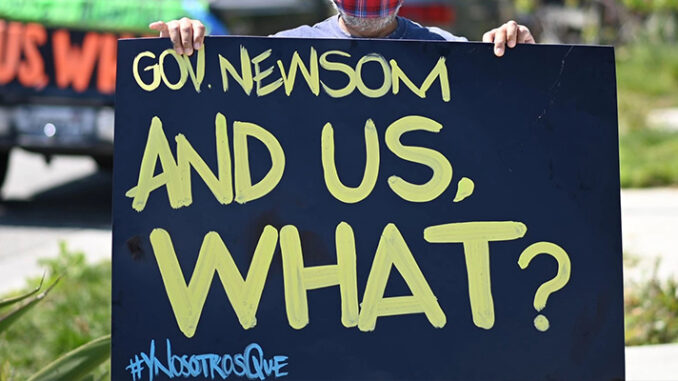 by Alex Gonzalez
Immigrants in the Golden State have been under financial strain after they were left out from  federal and state's financial relief programs, and now local non-profits are adding more confusion and despair among the most vulnerable members of the state.   
When  CARES Act passed in Congress on March 29th, it barred payments to anyone who filed a joint tax return with a spouse who used a taxpayer ID number, which has had significant consequences for U.S. citizens — denying stimulus money to their entire household, including the additional $500 payments for minor children who often are U.S. citizens too.
Under the terms of the Cares Act, checks of up to $1,200 per adult were promised to people whose annual incomes were at or below $99,000 and who had a Social Security number. Yet millions of people who work and pay taxes were left out. Why? Because they filed taxes using an Individual Tax Identification Number, which the Internal Revenue Service created for people who don't qualify for a Social Security number but are legally obligated to pay income taxes — a duty that applies to anyone who makes money in the United States, regardless of immigration status.
Who doesn't have a Social Security number? Some 8 million people living and working here without permission, mostly in low-wage jobs in the farming, construction, production and service industries. And many of those workers have lost jobs or hours as a result of the economic crisis. Many of those workers also pay taxes using an individual taxpayer identification number, which the government issues to people working without permission but who are still required to pay income taxes (the Internal Revenue Service is barred from sharing that information with immigration officials). As a result, Congress left out immigrants without a Social Security Number from Cares Act while acknowledging these were immigrants who pay taxes into the U.S. Treasury.
Congress created this problem, and it can — and should — fix it. The $3-trillion pandemic relief bill the House passed Friday would do so, while also teeing up a new round of stimulus payments. The Senate should get on board.
But Congress was not the only intuition to barred undocumented immigrants for accessing any benefits during the COVID-19 pandemic. California did the same.
Unfortunately, both the federal and California Earned Income Tax Credits include a similar restriction — it's available only to people who file taxes using Social Security numbers, not the individual tax numbers. Expanding that benefit at the federal level is highly unlikely, given the divisive debate over immigrants living and working here without permission. That's unfortunate, especially since the restrictions often freeze out U.S. citizen dependents from the anti-poverty program.
Both Gov. Gavin Newsom and the Legislature in Sacramento failed to act to make any change to California Earned Income Tax Credits and the state Unemployed agencies to provide to any financial aid to workers displayed by the COVID-19 pandemic.
Recognizing the failure of the Cares Act and and the state of California to help immigrant workers, in April Gov. Gavin Newsom announced a program using $75 million in tax dollars and $50 million from donors to send up to $1,000 per household to undocumented immigrants whose incomes are affected by the crisis but who are ineligible for unemployment benefits and other support. The $75 million Disaster Relief Assistance for Immigrants fund was to support about 150,000 immigrants affected by loss of income during the COVID-19 pandemic.
Monday was the first official day for undocumented immigrants to call the 12 nonprofits that the state chose to distribute the aid.  But phone lines and websites across the state crashed due to the volume of calls and inquiries on by Wednesday the phone were not working.
Many immigrants reported that their calls were never answered by the Coalition for the Rights of Immigrants, one of three nonprofits serving Los Angeles and Orange counties. At the Central American Resource Center, which serves Los Angeles, the calls were answered but immediately put on hold. After hours of waiting to speak to someone, the calls were cut off.
And while some of  non-profits in the Los Angeles and the Bay Area on Wednesday said that they had assisted 1600 and 1470 applicants respectively, most immigrant complained that they have called hundreds of times during three days but have gone without answers.
And though the nonprofits have all received grant funding from the Department to support the operational costs of delivering the application assistance and enrollment services, It seems that these non-profits did not have the infrastructure or staff to handle this type of programs.
That is unforgivable because these non-profits are hurting a lot of people with so much confusion adding despair and frustration among the most vulnerable people in the that that have gone without pay for since the start of mandatory stay-home orders on March 18th.
But this is failure of the federal and state and local non-profits. The state and local organizations were supposed to  stand up and help our most vulnerable members of the state after the federal government blocked access in Cares Act,  many of which are essential workers and are most at risk of contracting COVID-19, both the state and non-profits ave failed to help immigrants during the pandemic.
Alex Gonzalez is a political Analyst, Founder of Latino Public Policy Foundation (LPPF), and Political Director for Latinos Ready To Vote. Comments to vote@latinosreadytovote.com or @AlexGonzTXCA