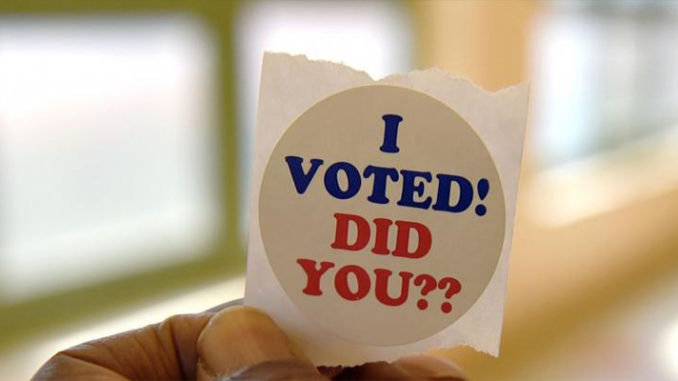 by Eugene Scott
If the Democrats are to be victorious in the midterm elections, they will need Latino voters to turn out in higher rates than normal. But while Latinos are much more likely to vote for Democratic candidates, there is concern that this important voting bloc may not turn out as needed in the fall.
There are plenty of efforts being made to change that. Former president Barack Obama was joined by Hispanic celebrities including Colombian hip-hop artist J Balvin and actress America Ferrera on Monday in Nevada, which has a sizable Latino population. Obama urged voters to support Democratic candidates like Rep. Jacky Rosen (D-Nev.) in the November election.
Democrats appear to be relying on anger with the Trump administration's policies not just toward immigration but on issues related to the economy and public safety to boost Latino turnout.
"We're seeing historic enthusiasm and excitement for this campaign and more importantly, the mayor's message of expanding access to health care and investing in education — and this includes Hispanic communities across Florida," Johanna Cervone, communications director for Tallahassee Mayor Andrew Gillum's gubernatorial campaign, told The Fix.
But similar enthusiasm did not translate to the needed turnout in 2016, when the percentage of Latinos eligible to vote was higher compared with previous elections, according to Pew.
This year, about a third of Latinos say there is no difference between the parties, according to Thursday's Pew survey. But the survey showed 52 percent have given a lot of thought to the midterm elections, up sharply from 35 percent in 2014 and 32 percent in 2010.
Carmen Sanchez, 53, a Peruvian immigrant who works in banking in Northern Virginia, told The Washington Post she will not be voting in this year's midterms after losing faith in the Democratic Party after they failed to pass the immigration reforms they promised.
"I didn't see changes for our people, for Latinos, under Obama," she said, adding her undocumented friends were "waiting for any hope or good news. But there's no hope for them."
The friends and family of Patricia Lugo, a 56-year-old promoter for a footwear chain focused on getting out the vote in Nevada, are not inspired.
"They say it doesn't do anything. And it doesn't matter who votes because (politicians) do whatever they want anyway," she told the AP earlier this month.
The Democratic Congressional Campaign Committee has reportedly spent more than $25 million to encourage Latinos and others among the Democratic base to show up in November. When announcing the investment, DCCC Executive Director Dan Sena said:
"The DCCC takes no voter or community for granted, and that's why we made the strategic, long-term decision to invest millions of dollars to turn out Latino, African American and millennial voters. We know what's at stake: Our community's livelihood is under attack as long as Republicans control Washington, and we need as many people as possible to register to vote and make their voices heard on November 6th."
But questions remain about whether that is enough. Some communities with sizable Latino populations appear to lack the necessary infrastructure needed to participate in the voting process. Latinos make up 60 percent of the population in Dodge City, Kan., but there is only one polling site for its nearly 28,000 residents. However, Hispanic turnout during the 2014 midterm elections was only 17 percent in rural Ford County, where Dodge City is located, compared with 61 percent for white voters. Part of the reason for these numbers was because of the location of the polling site in a predominantly white neighborhood, Johnny Dunlap, chairman of the Ford County Democratic Party, told the AP:
"That is terrible. What that has contributed to is a way below average Hispanic turnout in voting in Dodge City."
Another issue is even getting Latino voters to the poll. Concerns about voter suppression and intimidation could keep some Latino voters home. Georgia's secretary of state, who is also its GOP gubernatorial candidate, Brian Kemp, has not approved more than 50,000 voter registration applications because they did not pass its "exact match system." Princeton University's Ted Enamorado calculated that this system works against Latino voters more than white voters.
Democratic nominee Hillary Clinton lost the presidency in 2016 in part due to lower turnout among Latino voters and other demographic groups the left depends on to win campaigns. Enthusiasm across the Democratic spectrum appears to be higher headed into the midterms, where we will see if the party has improved its ability to win over and mobilize Latinos.
Eugene Scott writes about identity politics for The Washington Post Fix. Follow Eugene