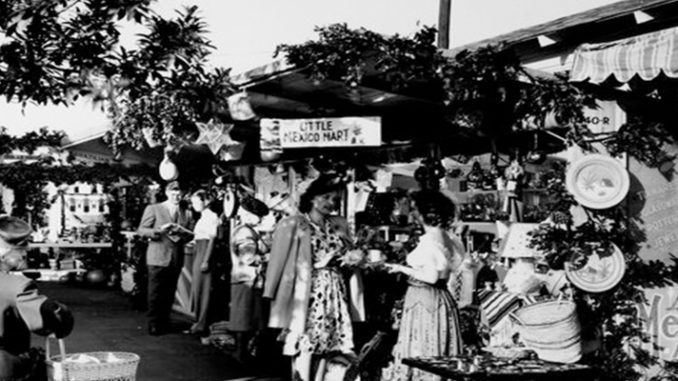 El Pueblo de Los Ángeles is often called the birthplace of the city. The much celebrated historic district in downtown, today, is brought to life by pumping Spanish-language music.
The vibrant colors of Olvera Street marketplace assure you: We celebrate our Mexican past.
But La Plaza de Cultura y Artes, the Mexican-American museum and community center nearby, asks its visitors to also interrogate some of the darker aspects of Los Angeles's story.
The museum's audience has nearly doubled in the last five years to about 111,000 visitors in 2018, according to Abelardo de la Peña Jr, a spokesman for La Plaza. He believes recent criticism of people Mexican descent has given members of the community a sense of urgency to learn more about their history.
Those visitors include Ulisses Esparza and Karen Casillas, who visited the museum on a recent afternoon. They came to the museum with a common refrain in mind: No somos ni de aquí, ni de allá; "we're neither from here nor from there."
Behind Mr. Esparza and Ms. Casillas stood an exhibit that explained the annexation of California by the United States in 1846 following the Mexican-American War. The annexation came just decades after Mexico had won independence from Spain in 1821.
That transfer also spelled the beginning of the end of the California Mission System that had subjugated Native Californians.
The rapid demographic changes that followed American annexation in 1847-48 destabilized the existing social structure. Well-connected Californios with deep roots in the region were displaced as Anglo migrants became dominant. That, in part, is what people mean when they say "the border crossed us," another common refrain among Hispanics in the United States who have lived here for centuries.
Around the corner, another section of the museum recounts the coercive repatriation of nearly 2 million people of Mexican descent during the 1930s and 1940s, a little-known movement in which people were expelled from the United States and sent to Mexico on the basis of their skin color.
An estimated 60 percent of those who were deported were in fact United States citizens, according to historical research. The deportations began during a roundup right across the street from the museum.
The American daughter of Mexican immigrants, Ms. Casillas said she often struggled to reconcile where her family fit into the fabric of cultural life in the United States while she was growing up.
The feeling has been exacerbated recently.
"Being a brown-skinned Latina, I know what it feels like to be misrepresented in the culture and cast aside. Even as a college graduate," she said.
Ms. Casillas and Mr. Esparza said their exposure to Chicano history in college had been a revelation. Mexican-American history, Mr. Esparza said, is often treated like a niche topic, separate or supplemental to real American history. And from their undergraduate studies was borne the conviction that Mexican-Americans are treated as "other" in the United States in part because the dominant historical canon mostly leaves them out.
"It was more of an elective, the way it was implemented into curriculums, even in Los Angeles," he said. "In U.S. history classes, when we got to the section about Chicano history, it was always just one page about Cesar Chavez."
But Mexican-American history is American history. Colonization and annexation are not tangential to our national story — they are fundamental to it. And "this museum helps me figure out where I belong," said Ms. Casillas.
.