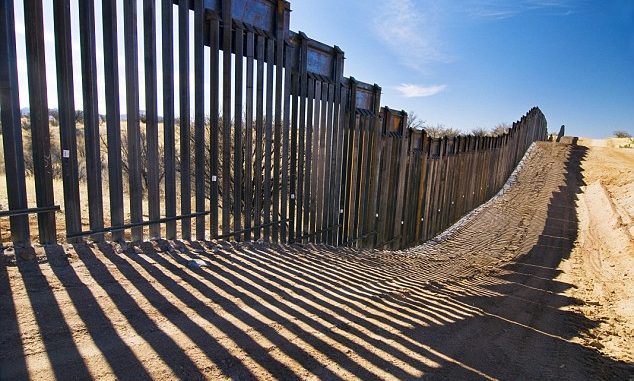 by Julian Aguilar, Texas Tribune
The Department of Homeland Security's announced this week a near-record decline in the number of people caught trying to enter the country illegally. Yet the Trump administration still wants to hire thousands of more border agents.
The Department of Homeland Security's announcement this week that its border enforcement strategy had resulted in a sharp decline in illegal crossings has renewed questions as to why the Trump administration wants even more agents on the southwest border.
U.S. Border Patrol agents made 310,531 apprehensions of people trying to cross into the country illegally between ports of entry during the federal government's 2017 fiscal year, which ended on Sept. 30. And Customs and Border Protection officers recorded 216,370 "inadmissible" cases, which are defined as a person who tries to enter the country at a port of entry but is rejected, or a person seeking humanitarian protection under current laws.  Combined, the numbers represent a 24 percent drop from 2016, according to year-end statistics.
That has Democrats and immigrant rights groups asking whether or not President Trump's order to hire thousands of more agents should be reconsidered.
"These numbers show that Border Patrol agents are stopping, on average, one or two people per month along the U.S.-Mexico border," said Adam Isacson, the director for defense oversight at the Washington Office on Latin America, a research and human rights watchdog organization. "Where's the urgent need to spend hundreds of millions of dollars on further expanding this agency?"
Through 2016, the Border Patrol had about 19,830 agents working for the agency across the country, including about 17,000 on the southern border, according to federal statistics. Both figures represent the smallest  amounts for the agency since the 2008 fiscal year, when there were about 17,500 and 15,440 respectively.
Just weeks after taking office, President Trump issued an executive order calling on DHS to bolster its ranks by 15,000 agents and spread out the new hires between Customs and Border Protection and Immigration and Customs Enforcement.
As of May, not one of the Border Patrol sectors in Texas had staffing levels up to par with what its headquarters authorized, according to a Government Accountability Report. The Rio Grande Valley had the most agents, with 3,143. But that was short of the 3,201 recommended authorized positions. The El Paso sector, which includes New Mexico, had 2,193 agents while 2,415 were recommended. And the Laredo and Del Rio sectors had 1,584 and 1,398 agents, which were also short of the sector recommendations of 1,852 and 1,642 agents, respectively.
But a July assessment by DHS's Office of the Inspector General said CBP and ICE could not justify the need for the additional agents.
"Neither CBP nor ICE could provide complete data to support the operational need or deployment strategies for the additional 15,000 agents and officers they were directed to hire," the reports states. "CBP officials explained they had been working for 3 to 4 years already, but are still 3 to 4 more years away from implementing a process to obtain and analyze accurate operational needs and deployment data."
On Tuesday however, the Border Patrol's top brass said the agency was moving forward with the president's request despite 2017's apparent success.
"We had some challenges with the infrastructure here at CBP, we weren't prepared to hire as many of the [positions lost to attrition] that we had going into the administration," Acting U.S. Customs and Border Protection Deputy Commissioner Ronald Vitiello told reporters. "We've now been handed another mandate to hire 5,000 more agents and we need to stabilize the workforce in the office of field operations."
The federal government's success comes as the state of Texas has recently allotted another $800 million for state-based border enforcement, despite Trump's promise to make border security a federal priority.
The Texas Legislature approved an initial massive boost in border-security spending by the same amount in 2015. Gov. Greg Abbott and his Republican colleagues said then it was necessary for the state to act because the Obama administration was abdicating its responsibility to secure the border. They cited a recent surge of undocumented women and children from Central America as proof.
They opted to maintain that record funding level in May, months before DHS's report came out. Lawmakers said during the 2017 legislative session that they couldn't predict how the Trump White House would approach border security, which they said justified another $800 million in spending.
State Rep. César Blanco, D-El Paso, said Tuesday's report from DHS means that taxpayers should demand that state lawmakers be more transparent with how the monies are being spent.
Blanco has for years accused the Texas Department of Public Safety of being less than forthcoming about how the agency, which receives the bulk of the state monies tied to border security, is using that funding. But he said he doubted the state would roll back its spending even when lawmakers return to Austin for their next scheduled legislative session in 2019.
"I think there's a rush to spend money," he said. "I think it does well during elections. As a border lawmaker who lives literally, a few feet from the border wall and who has been questioning what we're doing with the money, I think we need to put some metrics and some numbers in [place] in order to be smart about our state dollars and not rush to conclusions."
Other Democrats have added that DHS' near-record enforcement should prompt federal lawmakers to rethink efforts to appropriate billions of  dollars for Trump's promised border wall.
"The Administration can try to twist these numbers into whatever they please, but the fact remains that after unprecedented investments in border security over the last decade, the border has become harder to cross and fewer people are trying," U.S. Rep. Bennie Thompson, D-Mississippi, said in a statement. "Focusing massive, new government resources on a campaign promise would be a foolish and irresponsible exercise."
U.S. Sen. John Cornyn, R-Texas, said Wednesday that recent achievement's by DHS reflect a stronger emphasis on interior enforcement and sends a message to would-be illegal crossers that the Trump administration is tough on illegal migration. He told reporters during a conference call the results mean the administration should stay the course, and said legislation he filed earlier this year would address some of the staffing concerns as well as facilitate legitimate trade and commerce at the ports of entry. The Building America's Trust Act would punish "sanctuary" jurisdictions that don't enforce federal immigration laws and fund more agents.
But he reiterated that a physical barrier isn't a reasonable solution along the entire border despite the Trump administration's support for such a barrier.
"I think it's like looking through a soda straw. This is a bigger issue  than just physical infrastructure," he said. "It's not a complete answer. We need technology, we need personnel and the right combination depends on where you are along the border."
Julián Aguilar reports on politics and border affairs from the Texas-Mexico border. His focuses include immigration reform and enforcement, voter ID, international trade, border security, and the drug trade.
This article originally appeared on Texas Tribune:  With border arrests down, some question Trump administration's push for more agents