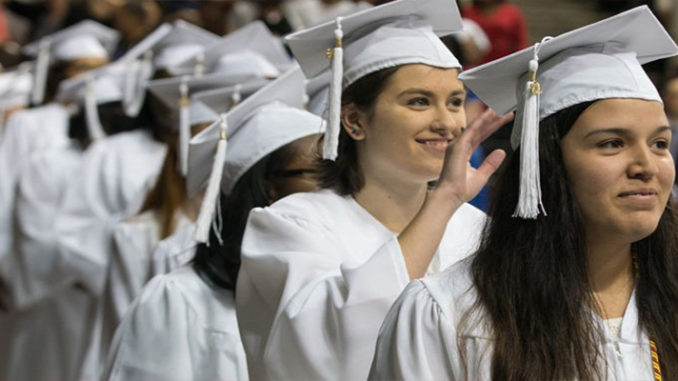 by Jonathan Hasak &Rachel Lipson
Seeking a pathway to economic stability and personal growth, Sandy Khamiseng enrolled in Evergreen Valley College in San Jose. As a teen mom, Sandy was able to attend her local community college for free. But once enrolled, she felt directionless, with little guidance on how her education might actually help her achieve her goals. She changed majors multiple times, and dropped out after nine semesters to work at fast food chain.
After five years working in the fast food industry, however, Khamiseng felt stuck. Her paycheck barely covered her and her son's basic expenses, and she struggled to see how her job was setting her up on a path to a better life.
First-time college students like Sandy are exactly whom Governor Gavin Newsom seeks to support in his recently proposed budget, which would provide significant funding increases to community colleges. The governor's proposal allocates $40 million to the California College Promise, a statewide program which provides funding to improve college readiness, increase completion rates, and close achievement gaps at community colleges. That $40 million would extend the California College Promise to a second year of tuition-free college for all first-time, full-time students.
Californians already agree that tuition-free community college should be a very high priority for Governor Newsom's administration. Nearly 80 percent of California residents support two years of free community college tuition for in-state students. These sentiments echo beyond the Golden State, as tuition-free community college enjoys strong bipartisan support across the country.  According to the Campaign for Free College Tuition, more than 80 percent of Americans support free college tuition, while over half of our states now have some legislative activity or a tuition-free community college statewide promise program enacted.
Prioritizing free community college is the right move for California. It will help Governor Newsom fulfill his campaign promise to promote the California Dream for all, and it cements the position of the Golden State as a national leader on higher education affordability and access. In a state where the gap between the top and bottom 10 percent of families has doubled since 1980, policies that create ladders to opportunity for more people are desperately needed.
Historically, community colleges have provided precisely that open door, serving as the first (and lowest-cost) entry point for students like Sandy looking for access to higher education. By embracing tuition-free community college, Governor Newsom is likely to encourage more young people who are out of work or out of school to enroll. However, to truly deliver on the California Promise, it behooves policymakers in Sacramento, and around the country, to recognize why students like Sandy are attracted to postsecondary education in the first place.
We know that, on aggregate, the more education people attain, the higher their earnings are likely to be, and the more likely they are to be employed. As the structure of our economy changes, educational credentials are becoming increasingly necessary. For instance, in a 2016 study, Georgetown's Center on Education and the Workforce found that 11.5 million of the 11.6 million jobs created in the recovery from the Great Recession went to workers with at least some college education.
However, a free education alone is not enough if the return on that investment does not lead to pathways to W-2s that can grow over time. Making something free, in other words, does not guarantee that it will be good. And to date, too many community colleges in California have been unable to deliver career opportunities that match the aspirational goals underlying the California College Promise.
Different programs and fields of study in community colleges lead to drastically different results. For example, one study found that wage outcomes in California's community colleges ranged from 106 percent increases in health occupations, to 14 percent losses in some core liberal arts fields. The system's own data reinforces these variations: five years after graduation, California Community College alumni with associate's degrees in Career and Technical Education received salaries that were 71 percent higher than peers with General Education degrees ($66,000 compared to $38,500). National research also underscores this wide variability. In a study of 5,500 institutions, for instance, ten of the top 15 community college certificate programs with the most graduates had typical earnings of $18,000 or less.
We know that with the right focus and resources, a community college education can be transformational. At Year Up, the national job training organization where we work, students enrolled in our programs at partner community college campuses across the country have experienced exceptional, life-changing income gains.
Since its founding in 2000, Year Up has served over 21,500 young adults and currently operates sites in 25 cities across the country, including five in California (San Francisco, San Jose, Menlo Park, Pleasant Hill, and Los Angeles). Year Up's California sites work with corporate partners across the state such as Kaiser Permanente, Salesforce, Facebook, Workday, LinkedIn, PayPal, Sony Pictures, and Google. While Year Up's original program model began on independent Year Up campuses, Year Up's new sites are now launched on community college campuses across the country. By leveraging the infrastructure of community college campuses — often the easiest place for students to find a training provider — Year Up has been able to more effectively link college training to employer demand and employment opportunity.
Last summer, we learned that Year Up's impact on earnings is the largest to date found for any workforce program in a randomized control trial setting. The 2018 Pathways for Advancing Careers and Education Study, sponsored by the U.S. Department of Health and Human Services, also showed that Year Up generates a significant earnings impact within a relatively short period of time — suggesting that job training in a community college setting can simultaneously be effective, and, highly efficient.
We recognize that the Year Up model, which provides comprehensive wraparound support, might not be the solution to serve every low-income young adult in California. But surely more can be done for the 2.1 million students in California's community college system who are seeking opportunity and access to good jobs. Because without more emphasis on career coaching, job placement, and strong employer relationships, community colleges, even free ones, will not be able to fulfill the California Promise.
Governor Newsom has an opportunity to not just make access to community colleges free, but to comprehensively address the laws, policies, and economic structures that prevent community college students from being able to attain good middle-skill jobs at scale (i.e. jobs that require some postsecondary education or training beyond high school, but not a four-year degree). While California has made significant strides towards building a stronger talent marketplace, much more can be done to enable students like Sandy to acquire skills with real currency in today and tomorrow's labor market.
Beyond the budget, Governor Newsom can use his bully pulpit to champion new norms for how we think about Californians without bachelor's degrees. He can remove barriers that inhibit our education system from responding faster to our changing economy; use his convening powers to align the efforts of the public and private sectors towards training the workforce of the future; and facilitate deeper relationships with the state's large employers to level the playing field for all Californians without a college degree.
Six years ago, Sandy was stuck in a job that was a dead end. A year later, she completed Year Up, interned at Facebook, returned to Evergreen Valley College, and earned her associate's degree in communications. She has since earned her bachelor's degree from Palo Alto University and works as a Global Investigative Analyst at Seagate, with plans to pursue her MBA. When Sandy's community college education experience was coupled with access to relevant work experience, exposure to job opportunities, and acquisition of in-demand skills, she was able to catapult herself from a minimum wage job into a meaningful career.
We know success stories like Sandy's are possible for so many more of the three out of every ten Californians aged 18-24 currently enrolled in California's community colleges. With the right focus, resources, and commitment, the California Promise can add up to much more than just free community college tuition. It can maximize the full potential of talented, diverse, and motivated young Californians who for too long have lacked access to the economic mainstream.
Jonathan Hasak is the Director of Public Policy and Government Affairs at Year Up. Rachel Lipson is a Special Projects Director at Year Up.