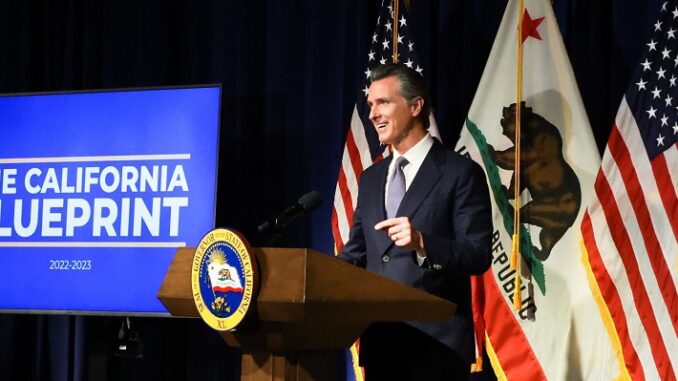 While policies to support families and address climate risks remain blocked at the federal level, California continues to forge ahead with these broadly popular agenda items. Should the Biden administration's signature Build Back Better Act fail to pass, America will need a progressive policy beacon more than ever.
by Laura Tyson,  Lenny medonca
As of early 2022, the fate of US President Joe Biden's ambitious plan for delivering an equitable and sustainable economic recovery is uncertain. Failure to pass the $1.75 trillion Build Back Better (BBB) Act would be a major lost opportunity. The legislation would boost the economy at a time of heightened COVID-19 risk. Without it, Goldman Sachs projects that first-quarter GDP growth in the United States could be a full percentage point lower than it would have been.
Even more important, BBB investments would reduce childhood poverty; provide support for working families struggling to balance care and work responsibilities; and address climate risks, providing a sound foundation for sustainable and equitable prosperity over the coming decade. These forms of public spending are broadly popular, and not just among Democratic voters.
For now, however, Senate Republicans and two Democrats from Republican-leaning states are standing in the way of meaningful federal action. Meanwhile, California, which has generated a historic budget surplus from its strong economy and record capital-gains tax revenues, is now making significant investments to support children, working families, and climate mitigation and adaptation efforts, providing a model for policymakers in other states and at the national level.
California Governor Gavin Newsom's 2022 budget proposal includes earned-income and young-child tax credits, paid family leave, subsidized childcare, two free meals and afterschool and summer programs for K-12 students, and a full year of free pre-kindergarten. Were BBB to pass, it would add critical support to California's efforts by increasing and broadening the federal child tax credit, by ensuring that no working family earning under $300,000 would spend more than 7% of their income on childcare, and by providing up to four weeks of paid parental leave for both employed and self-employed workers. The US currently stands alone as the only wealthy country without paid parental leave at the national level (the Family and Medical Leave Act of 1993 provides for 12 weeks of unpaid family leave).
A key element of California's pro-child agenda is a universal transitional kindergarten program to be phased in to include all four-year-olds by 2025-26. Preschool programs are highly effective investments, yielding far-reaching benefits for participants – from stronger academic outcomes and better health to higher earnings, more stable families, and greater social mobility later in life. Through BBB, the Biden administration aims to build on existing state and federal preschool programs, by providing funding to cover the federal share of the cost of a voluntary free pre-K program for all children, regardless of income or other eligibility requirements.
The US does less than any other developed country to reduce childhood poverty. Even after the benefits from current government programs and taxes, the childhood poverty rate remains at nearly 20%. Worse, children experience the highest poverty rates of all age groups in the US, and those who grow up in poverty are more likely to end up poor in adulthood. Poverty itself (as distinct from other factors) is known to affect future educational attainment, health, earnings, and criminal behavior.
But this trajectory can be changed through child-support programs such as those already underway in California and BBB's increased and refundable child tax credit (which is similar to the child cash allowances available in other developed countries). The BBB credit alone would reduce childhood poverty by an estimated 40% in a typical year, with the biggest benefits for children in Black and Hispanic households.
Because education and health are both major determinants of life outcomes, California's agenda for working families and children includes major investments in both. In 2010, California became the first state to set up a health-insurance marketplace, providing subsidized health care at huge discounts to some 1.6 million enrollees. Now, under Newsom's 2022 budget proposal, it is poised to become the first state to achieve universal access to health coverage for all residents (regardless of immigration status). And, in order to protect reproductive rights at a time when they are under attack at the national level and in other states, the budget proposes a series of measures to maintain and improve the availability of these essential health-care services.
The American Rescue Plan of 2021 substantially subsidized and extended eligibility for health coverage programs across the US. But this broadening of access will expire without BBB, which would allocate $130 billion to expand Medicaid and reduce premiums (by an average of $600 per year) for around nine million Affordable Care Act participants. BBB would also provide additional funds to support the expansion of state health-insurance programs.
Moreover, BBB would dramatically enhance the federal government's ability to leverage its purchasing power to negotiate for lower drug prices. There is strong bipartisan public support for the federal government to do more to tackle this growing problem. According to the Congressional Budget Office's estimate, BBB's drug-pricing provisions would reduce the federal deficit by $297 billion over ten years.
California, too, is developing new methods to combat soaring drug prices. In 2019, Newsom signed an executive order calling for state officials to negotiate prescription drug prices on behalf of the 13 million people covered by Medi-Cal (the state Medicaid program), and to allow private insurers to participate as well. And in 2020, he signed legislation to set up the first state-sponsored generic drug label.
While national action remains blocked, California is showing how governments can use their wallets and their negotiating power to make significant progress on behalf of working families. It will remain a beacon of progressive policy in dark times.
.
---
Laura Tyson, Co-Chair of the California Governor's Council of Economic Advisers, is Professor of the Graduate School at the Haas School of Business and Chair of the Blum Center Board of Trustees at the University of California, Berkeley.
Lenny Mendonca, Senior Partner Emeritus at McKinsey & Company, is a former chief economic and business adviser to Governor Gavin Newsom of California and chair of the California High-Speed Rail Authority.