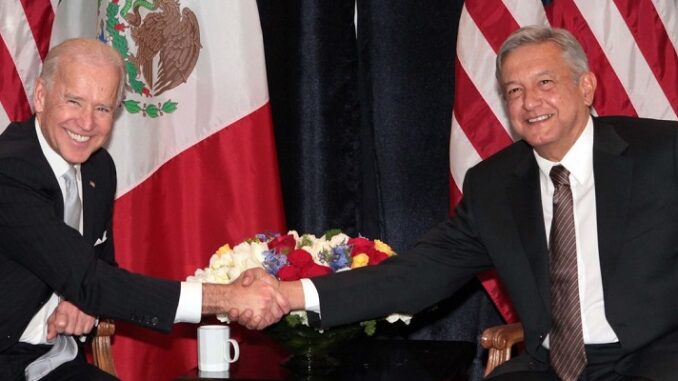 The challenge now is to continue 2021's advances to achieve tangible results for both countries — and North America as a whole.
by Earl Anthony Wayne
Mexico and the United States begin 2022 with a challenging bilateral agenda, but a series of dialogues and work agendas agreed over the past year can facilitate problem-solving and progress.
On Jan. 31, for example, the U.S. and Mexico announced an agreement on a public security and safety action agenda for addressing deadly cross-border crime, in an effort to reverse the deteriorating cooperation and lethal crime of the past four years.
U.S.-Mexico relations touch more daily lives of Americans and Mexicans than any other bilateral relationship that either country has. During the Trump administration, relations were characterized as much by tumult and tension as by collaboration.
The Biden administration came to office with a focus on building a good, long-term relationship with Mexico and the administration of President Andrés Manuel López Obrador (AMLO), informed by the work Biden and many of his team did previously with Mexico and Central America. They worked through initial hesitancy from Mexico City and invested in a series of conversations, including a visit by Vice President Kamala Harris, to deepen trust and understanding.
As a result, the U.S. and Mexican administrations recreated, reshaped and revitalized channels for cooperative work on the economic, public security, people-to-people, environmental and related agendas that bind these neighboring countries. Serious differences remain, but both presidents deployed talented teams who realize that no matter how frustrated one country might be with the other over particular issues, it is essential to make best efforts to sustain a productive relationship.
The challenge now is to continue 2021's advances to achieve tangible results for both countries — and North America as a whole. Problem areas such as crime, divergent energy policies, and managing migration flows remain tough. Both governments will need to demonstrate flexibility on some policy preferences, as well as perseverance to reinforce the teamwork needed to boost citizen security and well-being.
Good progress is evident on economic issues. The Trump administration successfully negotiated the US-Mexico-Canada Agreement (USMCA), which succeeded NAFTA. Largely because of COVID, implementing the USMCA only shifted into top gear over the past year. Doing that well will promote economic growth across North America. Mexico and Canada are essentially tied as the United States's largest trade partner, and they are its two largest export markets. Over $2 million a minute in trade crosses both borders, supporting millions of jobs in each country.
The three governments are moving vigorously to implement the USMCA's commitments and provisions via meetings among trade ministers and deputies, as well as the working committees established by the agreement. Officials from all three countries report agreement on opportunities to improve trade and benefits for workers. Most trade proceeds without problems, but there are significant differences and ingrained problems to tackle, such as Mexico's labor practices and energy and biotech agricultural policies, Canadian dairy policies, and U.S. approaches to rules of origin for vehicles and support for electric vehicles, as well as the treatment of Canadian lumber and some Mexican ag products.
Solving problems requires collaboration, such as is happening with some Mexican labor issues and is welcomed by U.S. unions, as well as the USMCA's dispute settlement processes. USMCA dispute processes were used for U.S. complaints about Canadian dairy policy and are underway for objections to the U.S. approaches on Canadian lumber and vehicle rules of origin. Bilateral dialogue outside the USMCA framework is also being used to avoid potential disputes, notably regarding U.S. concerns about Mexico's proposed energy reforms.
To complement the USMCA's work, the U.S. and Mexico revived a High-Level Economic Dialogue (HLED) to promote cooperation beyond trade. Among other issues, HLED working groups are tasked with promoting cross-border supply chains, improving border crossing processes and facilities, building cooperation on workforce training and skills, and promoting investment in southern Mexico and Central America to help deal with the root causes of migration.
Canada, Mexico and the U.S. also agreed on enhanced trilateral cooperation at the November  2021 North American Leaders Summit (NALS). These include better preparing for future health emergencies, strengthening supply chains by creating a trilateral coordination mechanism, and addressing cybersecurity vulnerabilities. The leaders highlighted the importance of cooperation to address climate change, including through greener technologies such as electric vehicles and region-wide strategies on key environmental problems. Officials will report results when the leaders convene again in 2022.
As challenging as boosting prosperity and competitiveness are, dealing with migration and cross-border organized crime are more daunting. The Biden administration is struggling to find a more humane and effective system for managing migrants at the southern border. It has encountered serious roadblocks, divided policy advice, blistering attacks from Republicans and sustained large migrant flows from Central America and other countries. The U.S. and Mexico are cooperating, including on addressing root causes. Mexico's National Guard is detaining migrants crossing into Mexico and heading north. Mexico's efforts remain imperfect, but they are of value. The months ahead will be crucial for demonstrating progress.
Crime remains as deadly and difficult as ever. Lethal drugs are surging northward, and guns and illicit money are flowing from the U.S. to Mexico. With some 100,000 U.S. citizens dying of drug overdoses in 2021 and over 33,000 homicides, plus other serious costs from crime in Mexico, this area cries out for better collaboration after years of deteriorating trust. Last October, the U.S. and Mexico recast cooperation into a broader "bicentennial framework for security, public health and safe communities." In January, the governments presented a comprehensive set of objectives. The challenge is to turn those into measurable outcomes.
Many concerns remain, including over democratic practices and human rights, but the stage is set for forging better results in 2022.
.
---
Former ambassador Earl Anthony Wayne is a diplomat-in-residence at American University's School of International Service and advisory board co-chair for the Wilson Center's Mexico Institute. He was a U.S. diplomat for 40 years. Follow him on Twitter @EAnthonyWayne.