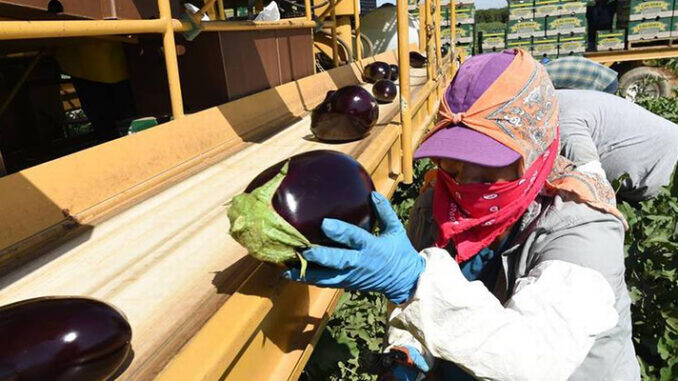 It's simply unacceptable that these vulnerable workers, so essential to California's economy, have no access to unemployment support.
by Los Angeles Time Editorial Board
Most workers in California who lose their job are eligible to receive a portion of their salary while they look for another job. Excluded from unemployment benefits, however, are an estimated 1.6 million undocumented workers, whose labor we rely on to pick vegetables and fruits in the fields, care for children, mow lawns and build new homes, even though many of these workers pay taxes.
There's a proposal in the state Legislature to remedy this injustice for many of these undocumented workers, Senate Bill 227, authored by Sen. Maria Elena Durazo (D-Los Angeles), would create the Excluded Workers Program, a fund separate from the state's unemployment program that would provide unemployment payments to undocumented workers who meet requirements similar to those imposed on workers who are U.S. citizens or otherwise authorized to work in the country. The bill is sponsored by the Safety Net for All coalition of more than 160 immigrant and worker rights organizations and supported by the National Employment Law Project and the California Budget & Policy Center.
Undocumented workers are excluded from receiving unemployment benefits because the state's unemployment insurance program is jointly funded by the federal government, which bars undocumented people from working legally. But these workers have become deeply embedded in the state economy, forming the backbone of many California industries, particularly agriculture, which supplies more than one-third of the vegetables and three-quarters of the fruits and nuts grown in the United States. This industry cannot survive without workers to pick and pack crops. Unemployment hits farm workers particularly hard because they earn low wages and depend on seasonal jobs and risk going hungry or becoming homeless during the industry's frequent layoffs.
The Excluded Worker Program would make it possible for the state to pay unemployment benefits to undocumented workers when they are laid off, if they can prove they worked at least 93 hours or earned a minimum of $1,300 in a three-month period in the previous 12 months. Those who qualify would receive $300 each week for up to 20 weeks. The maximum benefit under the state unemployment program is $450 per week, with the average payment about $330 per week, according to the Legislative Analyst's Office. The two-year program would allow policymakers to evaluate the program before considering making it permanent.
One big obstacle for this program is the fact that the governor vetoed a nearly identical proposal, Assembly Bill 2847 by Assemblymember Eduardo Garcia (D-Coachella), last year. In his veto message, Gov. Gavin Newsom said it would cost $200 million to set up, and $20 million in ongoing funds. He said that future proposals need a dedicated funding source.
Newsom was right to try to rein in state spending, given the expectation of a state budget deficit of $22.5 billion for the upcoming fiscal year. The California Taxpayers Assn., which opposes the bill, wants the state to prioritize upgrades to avoid widespread fraud during the pandemic.
It's disappointing that the author of this year's bill didn't come up with a clear funding source, but there's time to reshape the bill into something the governor will support. Besides, employers are already paying taxes into the state's unemployment program for these workers. In 2020, the Fiscal Policy Institute estimated that over the previous decade California employers paid about $4.4 billion into the unemployment system based on the work of undocumented immigrants.
It's simply unacceptable that these vulnerable workers, so essential to California's economy, have no access to unemployment support. Lawmakers must find a way to provide help for this part of the labor force when they need it the most.
.
.
---