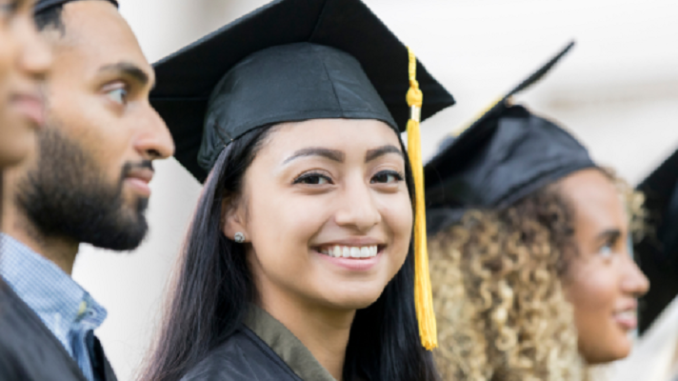 Although they are enrolling in higher numbers than ever before, once they arrive on campus Hispanic students face obstacles unfamiliar to many other ethnic groups.
by Jamie Merisotis
The road to higher educational attainment runs through every Hispanic household in America. With a population of 63.7 million, Hispanics are the country's largest minority group, and today one in every five students in higher ed is Hispanic.
The numbers make it clear: We can't meet the nation's attainment goals, or its workforce demands without giving Hispanic and Latino students the support they need to complete their educations beyond high school.
But just as the pandemic set back progress in Hispanic enrollment, a recent report reveals another troubling barrier for these students.
The Lumina Foundation-Gallup study conducted last year found that about one in four Hispanic students say they frequently or occasionally experienced discrimination, harassment, and disrespect and felt unsafe as they pursued their educations.
Moreover, Hispanic students pursuing short-term credentials were two to three times more likely to report negative experiences than their peers in two- and four-year colleges. This is particularly troubling given the increasingly high numbers of Hispanic and Latino people enrolling in these popular programs.
This study adds an alarming note to the wealth of research documenting the many barriers these students already face.
Although they are enrolling in higher numbers than ever before, once they arrive on campus Hispanic students face obstacles unfamiliar to many other ethnic groups. For example, they are more likely to come from immigrant families without a culture of college-going. They are less likely than their white peers to have attended a high-performing high school. For many, English is their second language. And they disproportionally worry about "belongingness"—the sense that college isn't a place for people like them.
These anxieties are magnified for undocumented students and for so-called Dreamers, the students who came to the U.S. as children and who benefit from the federal Deferred Action for Childhood Arrivals (DACA) program. Undocumented students do not qualify for federal aid, and Dreamers are at risk because of recent federal court rulings declaring DACA unconstitutional. Together, these groups make up nearly 3 percent of the college student population, and they feel under constant threat.
Given these hurdles, it's no surprise that more than half of Hispanic students have considered withdrawing from their postsecondary programs. Fortunately, research has demonstrated some steps educators and policymakers can take to support these students and help them succeed. They include:
· Hiring more Hispanic and Latino faculty members. Too often, Hispanic students see same-culture faculty members only in foreign language programs. Increasing representation among faculty in all disciplines can help ensure that every student has a scholar and model who shares their heritage.
· Boosting non-academic supports: Hispanic students gain from "intrusive" advising, tutoring, and mentoring by teachers and counselors from similar backgrounds, as well as from like-minded upper-class mentors and recent graduates who are succeeding at school and career. The effect among new students: "If they can do it, so can I."
· Thinking holistically: For this population, true wraparound support often means going beyond advising and tutoring. Most Hispanic students also work at a paying job—a third of them full time. Many have dependent children. For institutions serious about student support, help with childcare and transportation is vital.
· Using data to keep students on track: By analyzing grades, attendance, and other records at the course and student level, faculty and administrators can spot students who are struggling in required courses or enrolling in courses that don't advance them toward their degrees. Faculty and advisors can then intervene when there is still time to make a difference.
· Keeping equity at the forefront: Initiatives designed to promote diversity, equity, and inclusion can help institutions create environments that boost student success. These initiatives can identify policies and practices that may adversely impact Hispanic students, such as credit-transfer agreements. They can also help improve policies for reporting, resolving, and preventing harassment and discrimination.
· Supporting Hispanic Serving Institutions: HSIs are eligible to receive certain federal funds because they have Hispanic enrollments of at least 25 percent. Studies have found that when they support these students well, they improve both academic and (especially) non-academic outcomes, such as leadership development. Excelencia in Education is among the nonprofit organizations that aim to bolster these institutions: The rigorous application process for Excelencia's annual award helps institutions identify their successes and areas for improvement.
· Addressing concerns about belonging: A new study led by researchers at Stanford University found that a simple mindset exercise on belongingness increased first-year completion rates at the 22 colleges where it was tried. The exercise proved especially effective among Hispanics and other groups that have been less likely to finish their studies. The researchers estimate that if every institution offered incoming students such an exercise, more than 12,000 additional students would complete their first year every year.
Certainly, none of these recommended steps is particularly novel. Frankly, they should be used to support all students. But if we fail to take them in serving the nation's Hispanic and Latino students, we will miss a historic opportunity.
After all, Hispanic enrollment in higher education doubled from 2005 to 2021, from 1.2 million to 2.4 million, according to Census data. During the same period, the number of young Hispanic people with some college but no bachelor's degree increased 77 percent.
Attainment has steadily increased, as well: Lumina Foundation's Stronger Nation report shows that the percentage of Hispanic people with an associate degree or higher grew from 20.1 percent in 2009 to nearly 28 percent in 2021.
Yes, the pandemic nudged this trend in the wrong direction, but these students are still a huge factor in our nation's future. We simply can't allow other obstacles to slow their progress.
.
---
Jamie Merisotis  the president and CEO of Lumina Foundation, the nation's largest private foundation devoted solely to higher education. I'm frequently cited as an authority on public policy, philanthropy, education, and workforce issues.