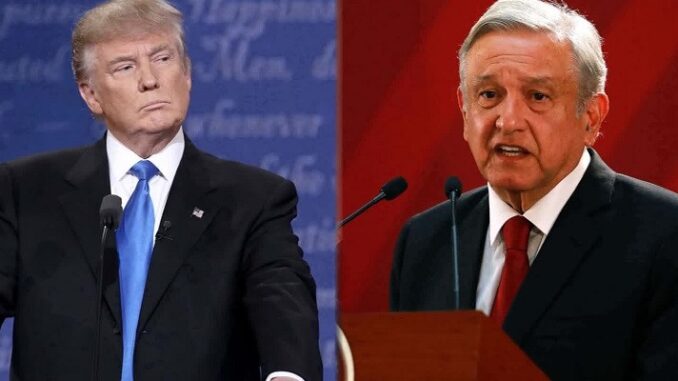 Next year's near-simultaneous elections and a spiral of escalatory rhetoric spell danger, but there is a way out.

The divergence between the Republican Party's internationalist and more isolationist wings was on full display at the first debate of the U.S. presidential primary season in August. But though contenders were divided on how to counter China's quest for global supremacy as well as on the U.S. response to Russia's invasion of Ukraine, they seemed to approach consensus on a third foreign-policy issue: the need to take unilateral, kinetic action against Mexico's cartels. Mexico occupied such a sizable portion of the debate's foreign-policy discussion that willingness to "take out the cartels" appears to have become something akin to an early litmus test.
The Republican hopefuls are right to sense something deeply flawed about the current state of U.S.-Mexico relations, but the dynamic of both countries holding near-simultaneous presidential elections in 2024—something that occurs only once every 12 years—coupled with the penchant on both sides of the border to use the other as a cudgel in domestic politics, presents important and underappreciated risks. A cycle of retaliatory rhetoric and escalating policy proposals risks damaging a relationship in need of repair. This tit-for-tat could strengthen Mexican President Andrés Manuel López Obrador's hand. Now that his term is almost up, if his chosen successor becomes president and continues his policies, it will hamstring U.S. efforts to rebuild security and economic ties.
Much of the Republican Party's focus on Mexico is attributable to López Obrador himself. Not only has the United States' top trading partner pursued an economic policy that is at odds with the openness of the preceding 20 years, but several of López Obrador's policies have violated the United States-Mexico-Canada Agreement (USMCA), agreed to in 2018 to replace NAFTA. Meanwhile, the cartels have grown in lethality and criminal sophistication during his nearly five years in office, despite his insistence to the contrary.
A consummate nationalist, the Mexican president has systematically deconstructed what was once robust bilateral security cooperation. Describing his security policy as "hugs, not bullets"—a nonexistent policy—López Obrador successfully pushed for a "foreign agent law" to limit the operations of the U.S. Drug Enforcement Administration (DEA) in the country, destroying much of Mexico's actionable intelligence; received the family members of notorious drug traffickers such as Joaquín "El Chapo" Guzmán; and upheld the preposterous notion that Mexico does not produce fentanyl, even as his own armed forces tout monthly seizures of the deadly substance.
The results have been all too predictable. It is estimated that cartels control nearly half of Mexico's territory—a figure that could be an undercount. Seven of the 10 most homicidal cities globally on a per capita basis are now in Mexico. With roughly a year remaining in his term, homicides on López Obrador's watch have nearly equaled those during his predecessor's six years in office and have far surpassed those under former President Felipe Calderón, who launched a frontal challenge to cartels that López Obrador derides as a feckless "war on drugs." At the border, disorder reigns, with illegal crossings rising again after a brief period of decline. And farther north of the border, for several years in a row now, American overdose deaths have topped 100,000, much of them attributable to illicit drugs produced in or trafficked through Mexico.
All this has had deleterious effects downstream for Mexico's economy, as well as key U.S. foreign-policy objectives. Despite record interest and financial incentives to nearshore supply chains from East Asia, Mexico—which represents about one-quarter of Latin America and the Caribbean's regional GDP—received just 17 percent of all foreign direct investment to the region in 2022. In the midst of a full-blown security crisis and policy uncertainty, Mexico has yet to convince foreign companies that it is sufficiently stable to support large-scale investments in strategic sectors such as semiconductors.
Given the grim reality, then, Republican impatience with Mexico is understandable. Yet the prevailing consensus in the Republican primary on the use of force seems equally misguided. Deploying troops to Mexico, launching precision-guided munitions to blow up fentanyl labs, or initiating a trade war through escalating tariffs: This is a counterproductive set of solutions to all the right questions. Further, the more these policies consolidate within the candidates' foreign-policy debates, the more Mexico's presidential candidates will feel domestic pressure to respond in kind. That will be a temptation not just for candidates such as former Mexico City Mayor Claudia Sheinbaum, López Obrador's preferred successor and ideological kin, but also Xóchitl Gálvez, a little-known senator who has come out of nowhere to capture the nomination for the Frente Amplio por México coalition—and who offers the opposition the best chance to challenge López Obrador's grip on Mexican politics.
There is also the question of what the relationship between the two countries will look like after simultaneous elections. Even a candidate like Gálvez, whose National Action Party arguably took U.S.-Mexico cooperation to its apex the last time it held the presidency during the Calderón years, could be forced to fall back on the defense of sovereignty if faced with the specter of U.S. action on Mexican soil. For López Obrador's leftist Morena party, the defense of sovereignty forms a critical part of its appeal, and exhortations to send in U.S. forces may well provide further motivation for Morena's project of selective strategic uncoupling from the United States. In either case, presidential candidates should avoid sowing the seeds of a complete breakdown in bilateral cooperation once the campaign dust settles.
It is inevitable that the role of each country in the other's domestic politics will contribute to heightened tensions. After all, Mexico has featured prominently in modern U.S. elections since before the passage of NAFTA. Throughout Mexico's democratic history, candidates positioning themselves as anti-American, anti-imperial sovereignty hawks have always reaped electoral benefits. Although the two countries share much in common through decades of integration, there is also a long history of pillorying each other for electoral gain. The U.S.-Mexico relationship has survived an extreme form of campaign politics in the past. The goal should thus be to maintain a bilateral relationship that can endure the mutual recriminations and set out to aggressively pursue strategic interests once Mexico City has held its inauguration in late 2024 and Washington has followed suit in early 2025.
Although the erstwhile Mérida Initiative, a bilateral, bipartisan approach to security cooperation that embraced "shared responsibility," may be dead, it is imperative for the next administration to get U.S.-Mexico security cooperation back on track with a comprehensive plan of action. In order to meet López Obrador's demands, the Biden administration negotiated the so-called Bicentennial Framework, which replaced Mérida, slimmed cooperation, and shuffled the pillars to deprioritize security and interdiction to focus instead on development initiatives. Yet López Obrador's abject neglect of public security has featured the proliferation of hundreds of criminal organizations as well as the consolidation of Mexico's two largest groups, the Sinaloa Cartel and the Jalisco New Generation Cartel. Further, the DEA says it seized enough lethal doses of fentanyl in 2022 to kill every American, while an "iron river" of weapons flows south to the cartels.
The Republican presidential candidates would do well to study the early stages of the successful (and bipartisan) Plan Colombia, which focused on territorial contestation and training Colombia's armed forces. Like every modern, functioning state, Mexico must regain the monopoly on the use of force and control its territory. This should be a relatively easy sell to Republican voters looking for U.S. partners to shoulder more of their own burdens. The United States should establish programs to train and professionalize Mexico's armed forces, weed out corruption within its ranks, and cultivate and vet elite special forces units capable of tracking and hunting down the highest-level targets, leveraging joint intelligence operations.
With Mexico's armed forces taking the lead on the interdiction and dismantling of criminal cartels, the United States should proceed concurrently by beefing up border security and dismantling the cartels' financial operations. As Kimberly Breier, a former U.S. assistant secretary of state for Western Hemisphere affairs, put it: "Mexico is a target-rich environment, not for U.S. missiles, but for [financial] sanctions." Perhaps one of the most sensitive areas the two countries will have to untangle is the increasing use of unprecedented levels of remittances from the United States to Mexico to launder cartel proceeds. A recent report estimated that of the nearly $60 billion sent to Mexico last year, at least $4.4 billion—and possibly much more—could have derived from illegal activity.
Insecurity lies at the root of irregular migration and Mexico's sluggish economic growth. It stands to reason, then, that achieving greater security in Mexico will have salutary effects on other U.S. strategic interests. Without resolving trade tensions, Mexico cannot hope to attract the levels of foreign direct investment required to advance its economy and prevent further emigration. Currently, the USMCA lacks full compliance, mostly owing to López Obrador's statist policies in sectors such as energy. This is robbing Mexico of the regulatory stability and investor guarantees necessary to reap the rewards of supply chain reorientation following renewed interest in Mexico's manufacturing sector.
Strengthening trade enforcement will also permit the United States to more easily pursue nearshoring from East Asia in vulnerable economic sectors. Yet, despite bipartisan calls to action, the Biden administration, inexplicably, has refrained from pursuing arbitration alongside Canada under the USMCA—an option it could have availed itself of nearly a year ago. Republicans should remember the binational institutions and trade dispute resolution mechanisms contained in the USMCA and campaign for the dogged pursuit of arbitration. Reducing U.S. supply chain vulnerabilities through nearshoring cannot happen as long as Mexico is out of compliance with the USMCA. While modest amounts of nearshoring to Mexico have occurred organically, this is in spite of López Obrador's policies, not because of them. The fact remains: The drive to nearshore supply chains is the opportunity of a generation for Mexico's economy to leapfrog into upper-income status and serve as a bulwark on the southern U.S. border.
In 2024, the bilateral relationship will need to weather the storm of concurrent elections while ensuring a relationship robust enough to last long after the campaign rallies have faded from the headlines.
---
Ryan C. Berg is the director of the Americas program at the Center for Strategic and International Studies, where he also heads the Future of Venezuela Initiative. Twitter: @RyanBergPhD